Category Archives:
Interweb
 Mr. Freeze by Stephanie Hans
Final cover of INVISIBLE REPUBLIC #14 by Gabriel Hardman.
Alex Ross' Universal Monsters – It really doesn't get any better than this…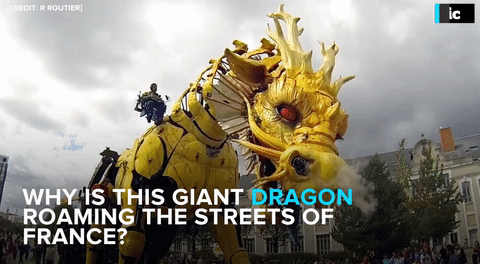 Follow @the-future-now

I saw Long Ma last summer and boy let me tell you

it

was

totally

awesome (yeah he breathes fire)

Honestly, just go check what the Machines de L'Île do because this is like the best thing ever.

They're currently working on L'Arbre aux hérons which is going to be a fucking metal tree that's going to be like 25m high and which is going to have these in it

(there also going to be ants in it and caterpillars and more cool stuff)

There's also Le Carrousel des Mondes Marins that is actually finished and is basically the coolest carrousel of the world and i'll fight you in the pit if you don't believe me.

Nantes is one of the best city ever (yeah i'm totally biased but i don't care) and if you want to come in France, forget Paris, come see us (beside it's like one hour from the sea and just under Britanny), we're nice and we've got les petites beurres LU

Oh! Oh! I lived pretty near Nantes in France before I moved to Canada, and whenever I went there to see my friends, we'd check out Les Machines de l'île (because I was obsessed)! 
Let's not forget about the most famous one!

L'

Éléphant 😀 

Yes it walks, yes you can "ride" it, YES IT BLOWS WATER

Last time I went there the tree was well advanced too, and the carousel is just magnificent. I'm gonna emphasize the previous comment: If you go to France, definitely check out Nantes and its machines!
for the self-conscious beginner: No one makes great things
until the world intimately knows their mediocrity. Don't think of
your writing as terrible; think of it as preparing to
contribute something great.

for the self-conscious late bloomer: Look at old writing as how far
you've come. You can't get to where you are today without covering all
that past ground. For that, be proud.

for the perfectionist: Think about how much you complain about things you love—the mistakes and retcons in all your favorite series—and how you still love them anyway. Give yourself that same space.

for the realist: There will be people who hate your story even if
it's considered a classic. But there will be people who love your
story, even if it strange and unpopular.

for the fanfic writer: Your work is not lesser for not following canon. When you write, you've created a new work on its own. It can
be, but does not have to be, limited by the source material. Canon is not the
end-all, be-all. 

for the writer's blocked: It doesn't need to be perfect. Sometimes you have to move on and commit a few writing sins if it means you can create better things out of it.

for the lost: You started writing for a reason; remember that
reason. It's ok to move on. You are more than your writing. It will be here if you want to come back.

For the jobbing writer who thinks they've lost their way: Don't be afraid. Sometimes the Way moves around. Just keep doing the work that presents itself and the Way will find you. 
Painting some Aquaman 🙂 

🐳💙🌊

More on:

💙

💙

💙
ARMAGGON from Teenage Mutant Ninja Turtles Adventures. One of the coolest characters in the Future Shark Trilogy!